We specialize in custom orders and are the industry leader in custom Glow-in-the-dark clothing.
Call (708) 506 1475 for rush service, please use the form below for custom quotes.
We are a BULK printer for custom Glow-in-the-dark clothing.
We have a minimum order of 12 pieces (all with the same design) for most designs.
We offer price breaks at 12, 24, 36, 48, 60, 72, 100, 144, 200, 250, 300, & 400+
We give out custom quotes for all our orders so that we can evaluate the design details.
We require up to 11 business days for delivery on most orders however we can work with our customers on deadlines to try to meet your needs. Contact us for availability. Large orders of 400+ may require longer production timelines.
Our shirts do not require black light to Glow-in-the-dark, all light types charge the ink.
We offer Adult unisex (a.k.a. men's standard retail fit), womens fit, womens fashion fit, and youth clothing and apparel.
We can print your design up to 12.5 in wide by 13.5 inches tall almost anywhere on the shirt.
We offer a variety of T-shirt colors, styles, and brands.
Samples are available for orders of 72+ shirts, we require a non-refundable $60-$150 deposit typically, restrictions apply, our turnaround times vary so samples are only an option if we have a few weeks notice for the full order.
We use Paypal invoices for processing, you do not need a Paypal account, simply select pay with card option to checkout without needing a Paypal account.
We offer the following Glow-in-the-dark ink colors: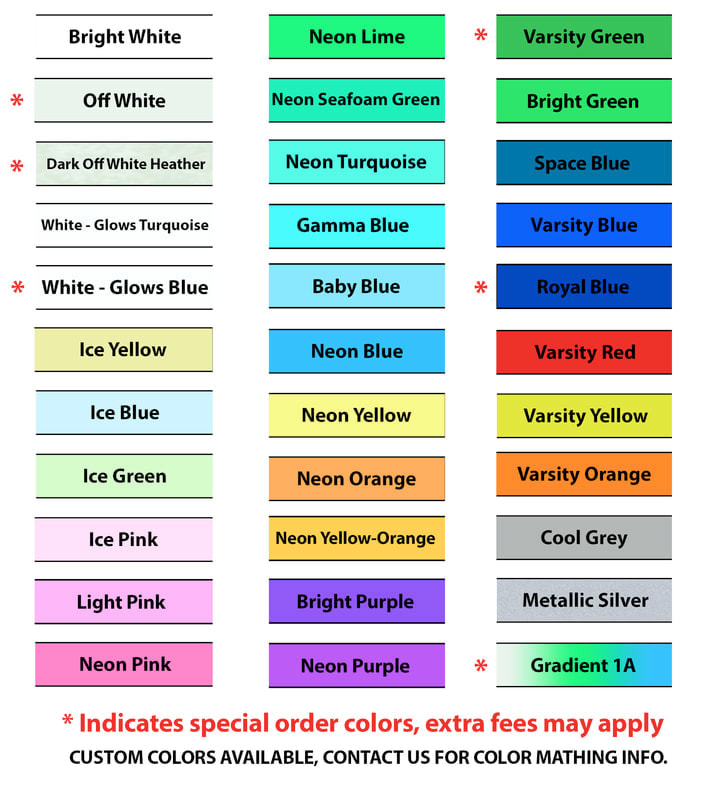 CHECK OUT SOME OF THE CUSTOM ORDERS WE HAVE DONE: